Materials
Metal
Metal headboards are often designed in a traditional style. Headboards can be made from a range of metals, including aluminium, iron and brass.
Wood
Wood is a common material for headboards, and has been used for furniture construction for centuries. Different types of wood.
Leather
Real Leather
Real leather is made from animal hide and can be an expensive material. Real leather is durable and resistant to tear. An important comfort consideration with leather is its poor ability to conduct heat, although it can be used as an effective insulator.
FAUX LEATHER
Faux leather is made to look like real leather, but is actually made from a fabric base which is chemically treated with wax, dye or polyurethane. Faux leather is a cheaper and ethical alternative to real leather, although it is not as strong.
FABRIC
Headboards can be upholstered in almost any fabric imaginable. For examples of commonly used fabrics visit our materials page.
Styles/Finishes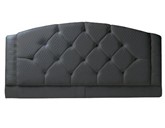 Padded
Padded headboards have a layer of thick, soft material which makes the board comfortable to lean against. Most upholstered headboards are padded.
Quilted
Quilting is a decorative process of joining together layers of fabric and/or padding with lines of inter-crossed stitching.
Buttoned
A buttoned finish is a decorative finish which involves a tufting process (see mattresses) to secure all the materials.
Attachment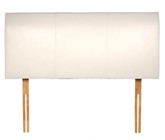 Fixed To Bed
Most headboards are attached to the bed directly, securing to the bed frame. Most divan beds have fittings in place for attaching headboards.
Wall Mounted
Headboards can be attached to the bedroom wall, to give the look of being fixed to the bed. Wall mounted headboards work similarly to a picture frame.