Frequently Asked Questions
Is there a delivery charge?
DELIVERY CHARGES
Delivery is free of charge for all mainland UK orders, (excluding The Highlands and northern areas of Scotland). Please check the map below to see if you are located within our free delivery zone. If you are located outside of this zone, please contact us for information about delivery charges.
How long is delivery?
Standard delivery for all our divan beds and mattresses, including bespoke orders, is 3-5 working days (with the exception of Glasgow/Edinburgh deliveries, which may take up to 2 weeks). Providing we have the order 48 hours before the day we deliver in your area then the delivery will take place on the day shown on the map below. We will contact you the day before delivery to book the delivery in.
Deliveries of sofa beds will take longer (4-6 weeks) as they are made-to-order items.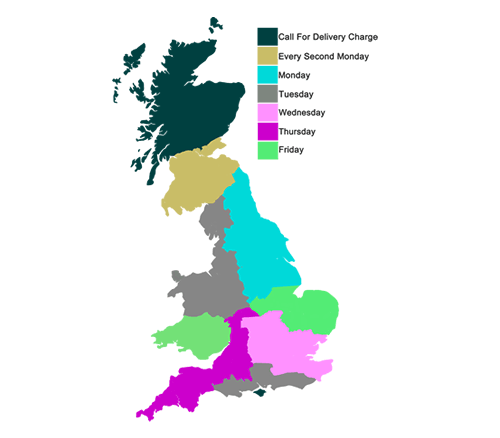 Will all my goods be delivered together?
We warehouse products at certain logistical warehouses throughout the country. We will endeavour to deliver complete orders in one delivery, but if this is not possible we will contact you to advise. 
Do you offer an installation service?
Unfortunately, no. We are not a high street store – we manufacture the products which then go straight onto our lorries and are delivered kerbside. It's down to you to move the products into your premise and install/assemble in your desired room(s). This is how we are able to keep our costs down, not only for us but for you as well. 
What happens if its delivered damaged?
This is a very rare issue for us, but we appreciate that sometimes accidents do happen. If you receive a product that is visibly damaged on delivery, we will require this to be marked on the delivery paperwork. If the damage is discovered after delivery, we will require visual confirmation (photographs).
Based on the level of damage to the item(s), we will either deliver replacement parts, or replace the whole item for you. 
On delivery
You will receive a call or text a day before your delivery just to confirm the details. Please note that all deliveries work on an 'all day delivery' service. If we cannot get through to you, we will send an e-mail. 
On the day, the driver will call beforehand (within an hour of delivery) to ensure someone will be present to accept the delivery.
Once there, delivery will be curb-side or, if possible, to the threshold of the property. We are unfortunately unable to deliver to your room of choice as the drivers are not insured to do so.
Do all your products adhere to crib 5 standards?
Unless otherwise stated, yes, all of our products are made specifically for commercial and contract use, and comply with the latest fire safety regulations.
Can you supply beds/furniture in custom fabrics and colours
Definitely, this is something that most interior designers ask for and it's something we can do for anyone. Just call the sales line to discuss your specifications and we can give you a quote for the bespoke build. 
Can you custom-make beds/furniture to any size?
Definitely, this is something that most interior designers ask for and it's something we can do for anyone. Just call the sales line to discuss your specifications and we can give you a quote for the bespoke build. 
You seem a lot cheaper than some other companies, how come?
We have a good long standing history with suppliers and buy most of our components, fabric and furniture in bulk, allowing us to buy at excellent prices and pass the savings onto you.  If you would like to pay more, we are more than happy for you to do this!  Although this hasn't happened to date...
Can I return items?
Of course, just call us or email through your problem. Handling charges will apply in certain situations, so please be sure to check our Terms & Conditions for full details.
Have you been in the industry long?
Our staff have over 30 years experience in the furniture industry, and that's not just sitting at the end of a phone.  Some of our sales staff have experience right from working on the factory floor making the products all the way to sales department - So you can be sure of good advice, service AND prices!
Do you offer discounts on bulk orders?
Of course, we deal with everyone from the small B&B owner to the large hotel chains who order in their thousands. We are always up for deal if you are buying in bulk, just call one of our sales team and they will be happy to negotiate with you.
What are your opening hours?
Our phone lines are open weekdays 9:00am – 5:00pm 
Do you have a showroom?
HotelContractBeds is an online store only, and unfortunately we do not have a showroom but you are welcome to come and visit the factory where products can be viewed by appointment only. Please contact us for more information.