Mattress Bases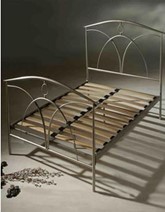 Hard Top
Hard top bases are essentially a box with a wooden top in which the mattress sits on. This base gives the bed a firmer feel to the sleeper.
Firm Edge
A firm edge base has springs within the centre of the base, surrounded by a wooden border. Not only does this base preservice the life of the mattress, it also provides added comfort because of the spring base. The wooden border adds extra support which helps maintain the shape of the base.
Sprung Edge
The name 'sprung edge' is slightly misleading as the whole base is sprung, and not just the edges. Since the springs help take some of the weight of the sleeper, the longevity of the mattress improves.
Plank Slats
Plank slats are typically screwed down straight pieces of wood.
Sprung Slats
Sprung slatted bed bases are curved, flexible pieces of wood that fit into rubber holders. Supporting your body with a good mattress and base are equally as important since they both work together.
Welded Mesh
A welded mesh base is designed for the contract environment to withstand heavy use which is perfect for hoteliers. The mesh base products durability and comfort to the bed.
Bed Frame Feet
Shepherd (Globe) Casters
Shepherd casters are easily mounted into an appropriate socket on the bed frame. They work well on wooden floors and have brakes in order to keep the bed in a fixed position. Some casters will allow you to raise the bed which can provide valuable storage space.
Nylon Casters
Nylon casters are perfect for use on carpet and ceramic surfaces.
Glides
Due to the larger area contacting the floor surface, glides provide better protection for hard surfaces, such as wood flooring, than do casters.