1. Panama
Panama (officially the Republic of Panama) is the southernmost country of Central America and the whole of North America.
Described as a cheaper, less touristy version of Costa Rica, Panama is the only place in the world where you can see the sun rise on the Pacific and set on the Atlantic.
Famous for its 48 mile ship canal, which connects the Atlantic Ocean to the Pacific Ocean. This was built over the course of a decade and was opened in 1914. One of the largest and most difficult engineering projects ever undertaken, the Panama Canal shortcut greatly reduced the time (and the safety) for ships to travel between the Atlantic and Pacific Oceans. Every year hundred of thousands of tourists make the eight-hour journey through the waterway.
Capital City: Panama City
Climate: Panama has a tropical climate with high temperatures and little temperature variation (Usually between 25-30 degrees Celsius).
Panama City [Source]
Boquete, Chiriqui [Source]
Guna Yala [Source]
Fun Facts About Panama
Panama has more than 1,000 miles of coasts and 1,000 islands on the Pacific side, and 800 miles of coasts and 600 islands on the Caribbean side.
Home to the largest rainforest in the Western Hemisphere outside the Amazon Basin.
2. Belarus
Belarus (officially the Republic of Belarus) is a landlocked country in Eastern Europe. A former Soviet Republic, Belarus gained independence in December 1991.
Belarus enjoys a rich cultural and artistic heritage that dates back many centuries, and is the largest manufacturer of home-made vodka in the known world.  Described as Eastern Europe's outcast, Belarus is a somewhat isolated country (although this is the heart of appeal for some travellers), with minimal advertising and picturesque villages.
Capital: Minsk
Climate: Belarus has a moderate continental climate, with cool humid winters and warm summers. Temperatures vary between –4.5 and –8 degrees Celsius in January, with the average temperature in July between 17-18 degrees Celsius.
Minsk National Library [Source]
Father Frost, Belovezhskaya Pushcha [Source]
Fun Facts About Belarus
The Belovezhskaya Pushcha in Belarus is the largest ancient forest in Europe.
Belarus has the world's largest population of Zubr (European bison), Europe's largest mammal.
Every city in Belarus has a Lenin Street
3. Oman
Oman (officially the Sultanate of Oman) is an Arab country in Southwest Asia.
Described as the best kept secret in the middle east, Oman boasts a rich heritage and an embracing society, offering visitors a chance to engage with the Arab world without the distorting lens of excessive wealth.
With an abundance of natural beauty, from spectacular mountains, wind-blown deserts and a pristine coastline, Oman is the modern face of Arabia with an ancient soul.
Capital: Muscat
Climate: Subtropical dry, desert climate with low annual rainfall. Summer temperatures (June to September) can easily reach 40 degrees Celsius or more.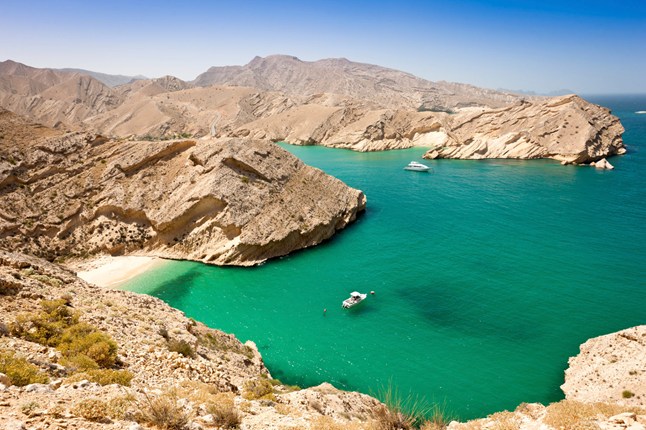 Oman has a striking landscape [Source]
Muscat, Oman [Source]
Oman's desert [Source]
Fun Facts About Oman
There are almost NO Coca-Cola products sold anywhere in Oman, but Pepsi is widely sold.
Oman only allowed tourists to enter its territory at the beginning of the 1990s.
Weekends in Oman are on Thursday and Friday.
4. Bhutan
Bhutan (officially the Kingdom of Bhutan) is a landlocked country in South Asia located at the eastern end of the Himalayas.
Bhutan is a tiny and remote country that for centuries was almost completely cut off from its surrounding neighbours. In fact, Bhutan only began to open up to outsiders in the 1970s, and still fiercely guards its ancient traditions.
With a reputation for mystery and magic, Bhutan is a deeply Buddhist land, where monasteries are part of the mainstream. If it's beauty and culture you're after, Bhutan is arguably one of the best places to 'discover yourself'.
Capital: Thimphu
Climate: The climate in Bhutan is extremely varied. Southern Bhutan has a hot, humid subtropical climate (15-30 degrees Celsius all year round). Areas in the far north can get very cold during winter.
View of Thimphu form the Southeast [Source]Fun Facts About Bhutan
The Bhutanese name for Bhutan, Druk Yul, means "Land of the Thunder Dragon".
Visitors must pay a minimum tariff of approx £150 per day to stay in Bhutan. However, this fee is all-inclusive – accommodation, food, transport and an official guide are all provided.
The capital city, Thimphu, does not have a single traffic light.
5. American Samoa
American Samoa (officially Territory of American Samoa) is an unincorporated territory of the United States located in the South Pacific Ocean, southeast of Samoa. It lies about 1,600 miles northeast of New Zealand and 2,200 miles southwest of Hawaii.
American Samoa is a vastly underrated tropical destination home to some of the world's most remote and uncluttered reefs and beaches. The Territory is regarded as one of the last undiscovered paradises of the Pacific with a tourism industry 100% locally owned and operated.
What you'll find in this place, is beauty beyond measure; there's a volcanic crater, a 3,000-foot mountain (Lata Mountain) and the waters around the island chain are populated by around 961 species of fish.
Capital: Pago Pago
Climate: Tropical conditions throughout the year with 2 distinct seasons; the rainy season (December to April) and the dry but slightly cooler season (May to November).
Rainmaker Hotel along Pago Pago Bay, Tutuila, American Samoa [Source]
Pago Pago Harbour [Source]
Traditional fishing, Ofu Island [Source]
Fun Facts About American Samoa
Made up of 5 volcanic islands (and 2 coral atolls), 90% of which are covered in untouched rainforests.
The National Park of American Samoa is one of the most remote - and newest - national parks in the United States.
The only inhabited US territory south of the equator.
6. Comoros
The Comoros (officially the Union of the Comoros) is a sovereign archipelago island nation in the Indian Ocean, located off the eastern coast of Africa.
The mysterious and enchanting Comoros islands are extremely remote and rich in culture. Holidaying in the Comoros, however, isn't for everyone; tourism facilities are far from plush and alcohol is a no-no for both sexes. But if your idea of the perfect holiday is more about long, lazy days and exotic safari's, the Comoros will probably be the kind of isolated adventure you've been craving.
Capital: Moroni
Climate: Generally tropical and mild, with the average temperature reaching 29-30 degrees Celsius.
Moroni, Comoros [Source]
Comoros Islands [Source]
Fun Facts about the Comoros
Comoros means "Island of the moon".
The waters surrounding the islands contain the Coelacanth – a unique fish once thought by western scientists to have been extinct for millions of years.
7. Kiribati
Kiribati (officially the Independent and Sovereign Republic of Kiribati) is an island nation in the central tropical Pacific Ocean. The nation is composed of 32 atolls and one raised coral island, dispersed over 3.5 million kilometres, straddling the equator.
With only 6,000 visitors a year, Kiribati is known as the world's least visited country, partially due to inaccessibility (flights can be scarce). But the most worrying thing about Kiribati is that it is quickly disappearing due to rising sea levels.
Capital: South Tarawa
Climate: Temperature varies between 25-33 degrees Celsius. A gentle breeze from the easterly quarter is predominant.
Kiribati is made up from a number of atolls and islands [Source]
[Source]
North Tarawa, Kiribati [Source]
Fun Facts About Kiribati
In 1995, Kiribati moved a chunk of the international date line to the east so that the entire country would be on the same side.
Used as a nuclear arms testing site for a short period between 1957 and 1969.
Kiribati is the only country located in all four hemispheres.
8. Nicaragua
Nicaragua (officially the Republic of Nicaragua) is the largest country in Central America, bordering Honduras to the north and Costa Rica to the south.
With a lot of beauty and richness to offer, Nicaragua is experiencing an increasing number of tourists from around the world each year. The land of lakes and volcanoes, it is also the land of lush forests, deserted beaches and vibrant colonial cities. Described as "Costa Rica without the crowds" – for now.
Capital: Managua
Climate: Tropical in the lowlands, cooler in the highlands. Temperatures vary from 27-32 degrees Celsius during the rainy season (May to October) to 30-35 degrees Celsius during the dry season (November to April).
Concepción Volcano, Ometepe [Source]
Managua, Nicaragua [Source]
Volcano Boarding, Cerro Negro, Nicaragua [Source]
Fun Facts About Nicaragua
Home to the worlds only 'Dual Volcano', which is fed by two separate magma flows.
Home to the largest naturally formed lake in Central America: Lake Nicaragua (which is also home to the worlds only freshwater sharks).
86 of the 88 constellations can be seen in Nicaragua.
9. San Marino
San Marino (officially the Republic of San Marino) is situated on the Italian Peninsula on the north-eastern side of the Apennine Mountains.
The oldest state in Europe, San Marino is also one of the smallest, and is completely landlocked by Italy. Described as a toy-town, with packed streets and kitsch souvenir shops, San Marino is perhaps not everyone's cup of tea. However, despite its small size, you won't run out of things to do and see.
Capital: San Marino
Climate: Mediterranean with continental influences, having warm summers and cool winters.
Borgo Maggiore, San Marino [Source]
Piazza Liberta, San Marino [Source]
Fun Facts About San Marino
If everyone in San Marino went to Wembley Stadium, there would be 56,318 empty seats.
San Marino's football team are officially the world's worst international team.
The capital of San Marino, is called San Marino.
10. Liechtenstein
Liechtenstein (officially the Principality of Liechtenstein) is a doubly landlocked German-speaking alpine country and a microstate in Central Europe, bordered by Switzerland and Austria.
With its stunning natural beauty, Liechtenstein is just 25km in length and 6km in width, making it the 6th smallest country in the world. Around half of Liechtenstein lies in the mountains, and it is the only country with 100% of its area in the alpine region. From beautiful landscapes to museums, restaurants, sporting events and peaceful spots to lie back and relax, Lichtenstein is a great place to explore.
Capital: Vaduz
Climate: During winter, the thermometer won't dip below –15 degrees Celsius. Summer sees temperatures between 20-28 degrees Celsius.
Burg, Liechtenstein [Source]
Vaduz Landscape, Liechtenstein [Source]
Kunstmuseum (Art Museum), Stadtle, Liechtenstein [Source]
Fun Facts About Liechtenstein
Liechtenstein is the world's largest producer of dentures.
During the Austro-Prussian War of 1868, Liechtenstein sent out an army of 80 men, all of whom survived – and they brought a friend home with them (an Italian soldier who decided he would rather return to Liechtenstein than his home)!